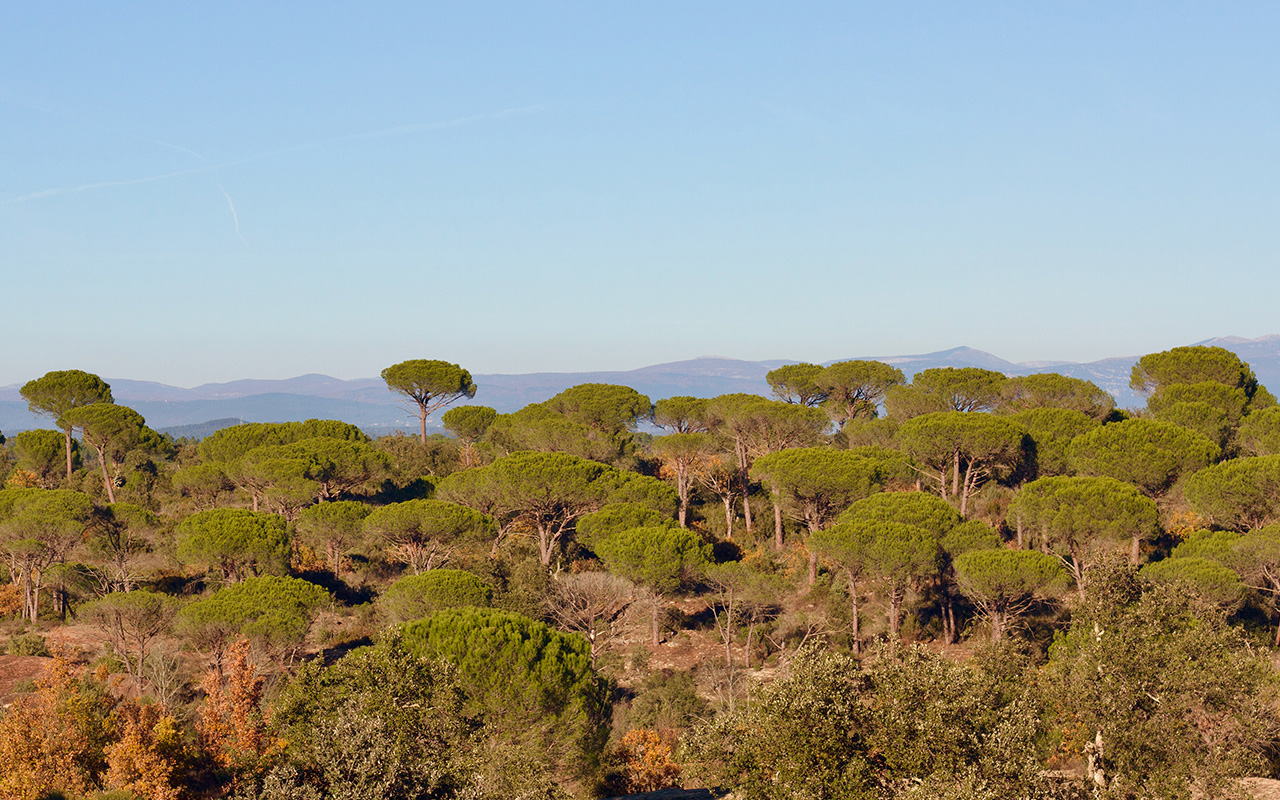 GPS: 43° 21′ 20″ N , 6° 24′ 18″ E
GPS: 43° 21′ 20″ N , 6° 24′ 18″ E
The plain's primary habitats include oak groves, pine forests, Mediterranean scrub and vineyards but also shelters a mosaic of rare ecosystems. In winter it is wet and littered with temporary pools and water courses that evaporate as the temperature rises. In spring it is carpeted with a rich variety of wildflowers that include iris, anemones and tulips.
Parasol Pines give this vivid landscape a manicured look that is quite often compared to the African Savannah. For me, the red tones and sizzling summer conditions draw comparisons to the Australian Outback. All that is lacking are a few kangaroos.
When seen from afar the pines create a compact set of soft springy mounds that my imagination wants me to bounce on, one to another, trampolining right across this remarkable landscape, reminiscent of an Aussie marsupial.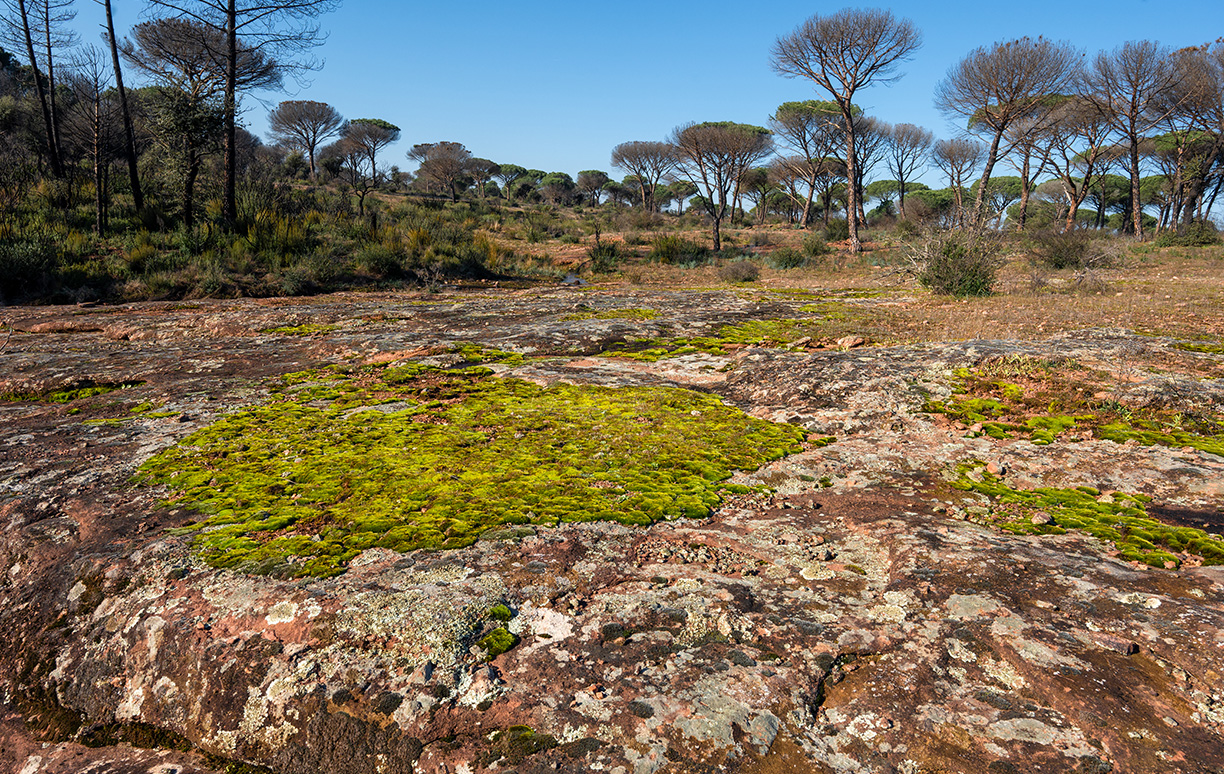 The pink slabs and boulders are decorated with lichens and mosses of pale to dark greens, white, oranges and yellow and look like they've been tagged by mother nature's personal street artist or tattooist. These great chunks of sandstone provide nooks and crannies for lizards to both hide and sunbathe. Cold blooded creatures need to warm their blood and muscles before they can become fully active. Notable Reptiles:
East Iberian Sand Racer, Moorish Gecko, Wall Lizard, Western Green Lizard, Slow worm, W
estern three-toed 
S
kink 
. Smooth, Southern Smooth, Grass, Ladder, Viperine,
Montpellier and Aesculapian snake
s.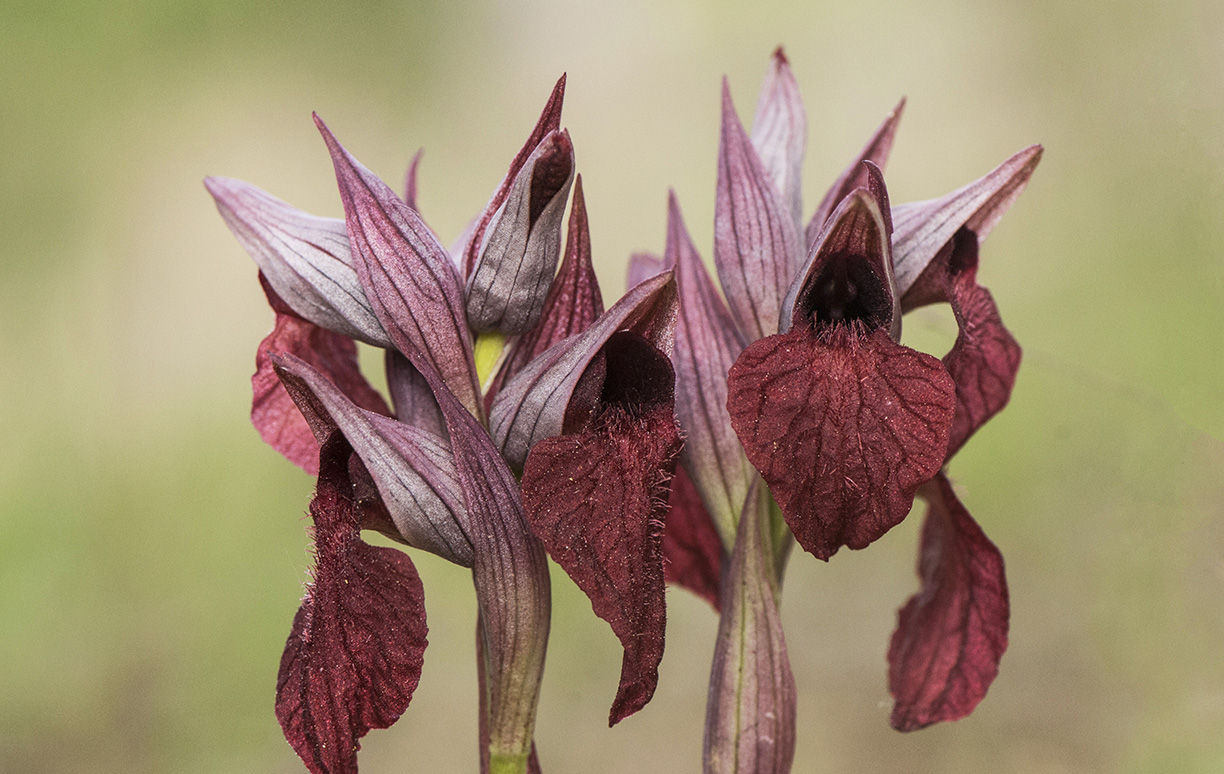 The plain is home to a family of flowers (Serapia) that are reminiscent of Mick Jagger in his pomp. Tongue Orchids blow raspberries at anyone who pays them attention. They range in colour from pale pink to vermilion and have narrow, tubular flowers, from which protrudes a tongue-like, lower petal (labellum).
There are four species found here, Serapias neglecta, Serapias lingua, Serapias cordigera & Serapias vomeracea. Be sure to raspberry back if you encounter them. It might give you great "Satisfaction"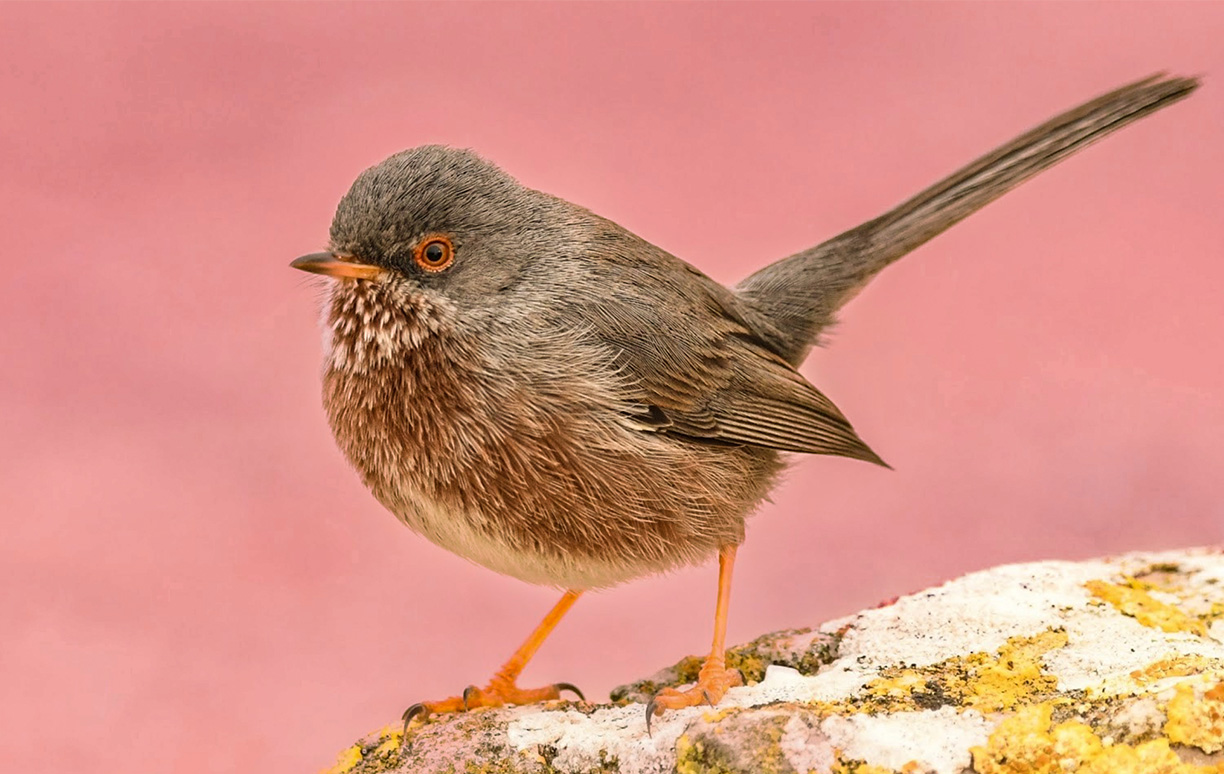 Around 150 bird species have been recorded and I've seen a few oddities during migration like a handful of Black-winged Stilts. A lot of the birdlife are small warblers, finches, larks, and pipits which can be difficult to spot in the undergrowth due to being discreet. Three types of Shrike frequent the plain, Red-backed, Woodchat and Southern Grey. Around Lac des Escarcets there's the chance of Water Rail, Great Reed Warbler and Little Bittern.
The most abundant birds of prey are Black Kites but they are dwindling due to the closure of the nearby landfill site. Others overhead are Common and Honey Buzzards, Short-toed Eagle and Golden Eagle (if you're lucky). It is a favoured wintering site for Red Kites.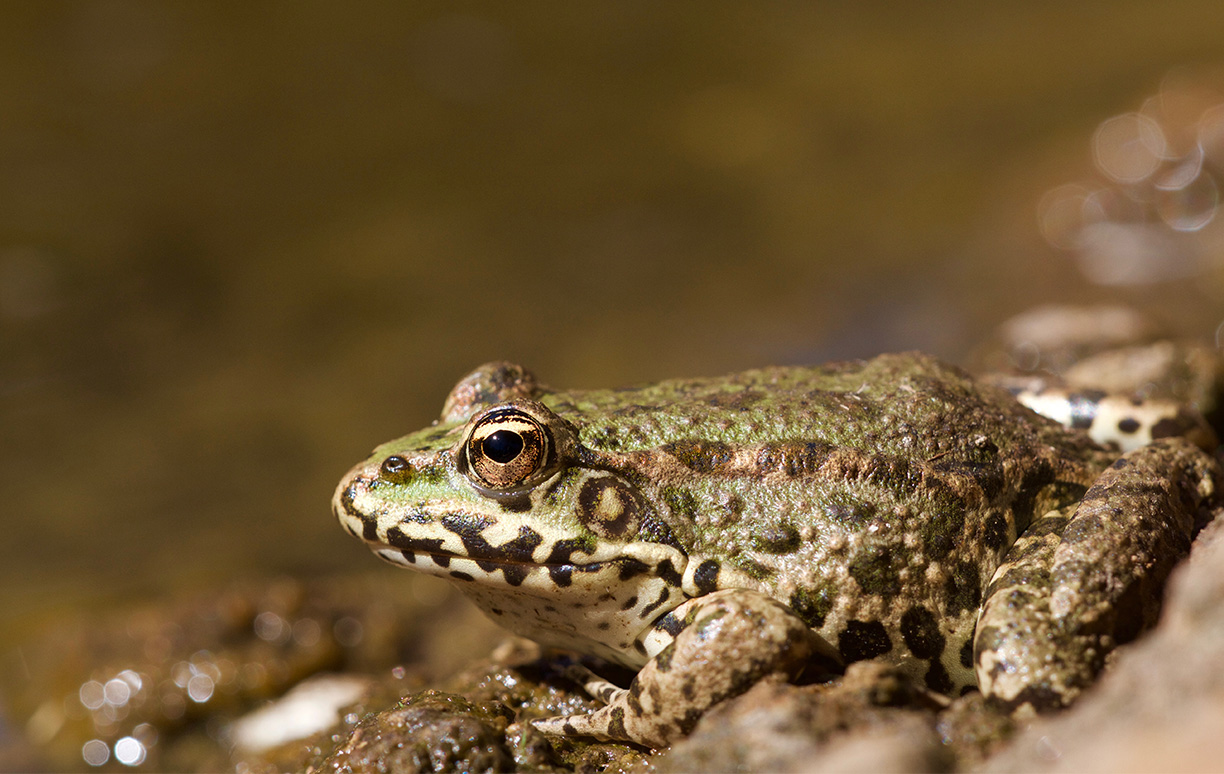 Amphibians abound in the temporary water sources and the tadpoles run the gauntlet of reaching maturity before their watery home evaporates and cooks them. Some of the species that can be found are Common and Natterjack Toads,
Mediterranean 
T
ree
, Marsh, Agile and Parsley Frogs, Fire salamander too.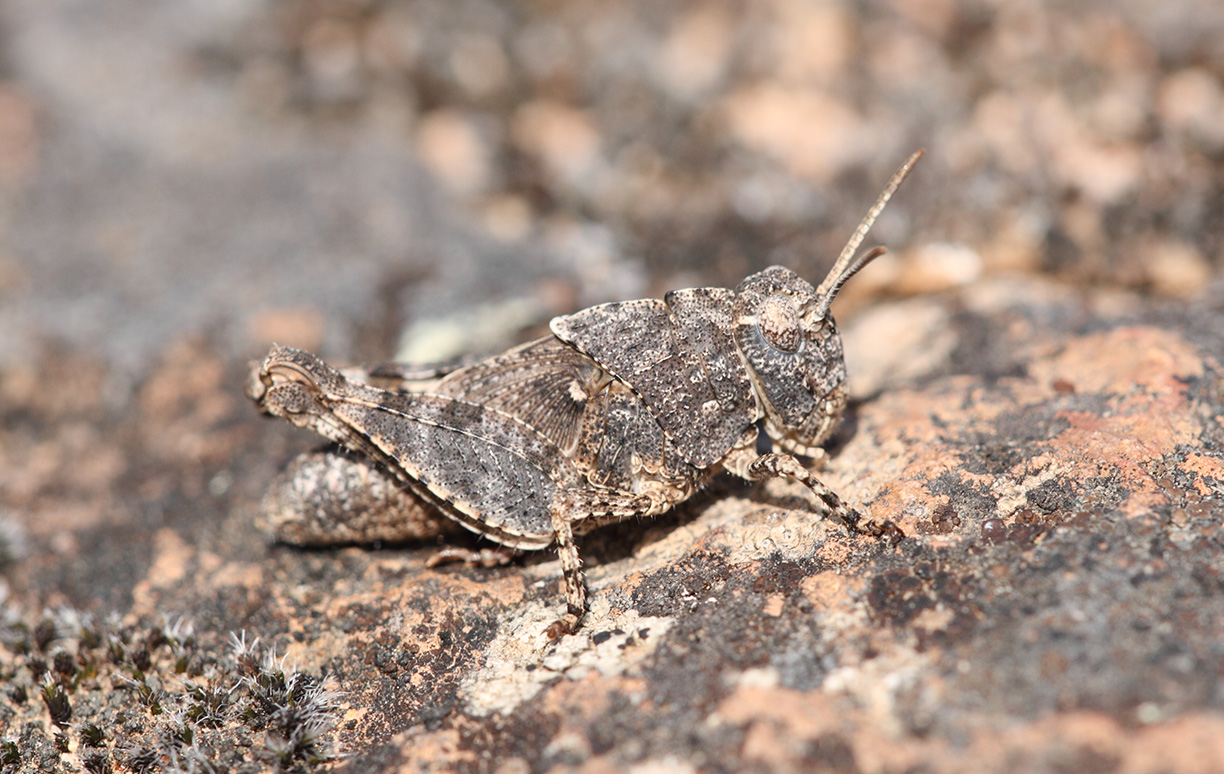 A plethora of invertebrates thrive here from beautiful butterflies and dragonflies to the less liked but just as important blood sucking mozzies, each has its place in an ecosystem and the food chain. Some of my favourites are Owlflies, Antlions and the supercharged assassins that are Tiger Beetles.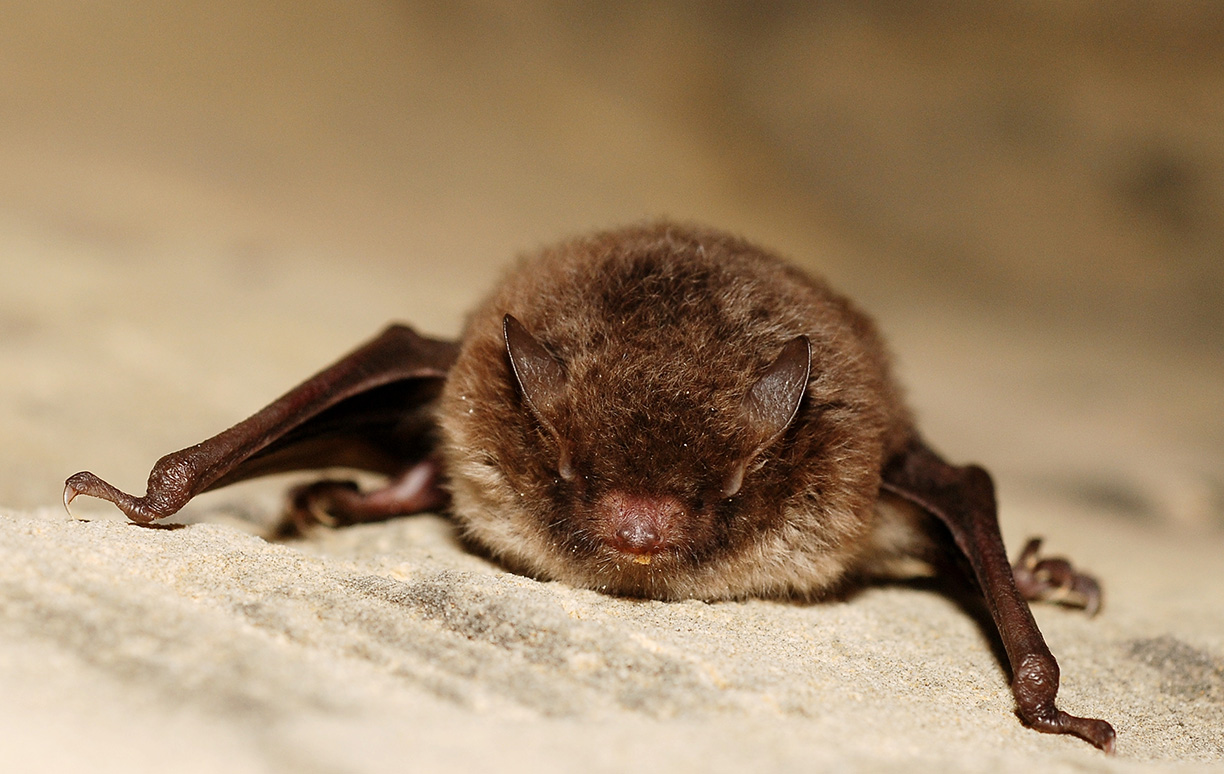 Mammals are shy and most are nocturnal like the 11 species of bats. These include Geoffroy's, Daubenton's and Natterer's plus Common, Kuhl's and Savi's Pipistrelles.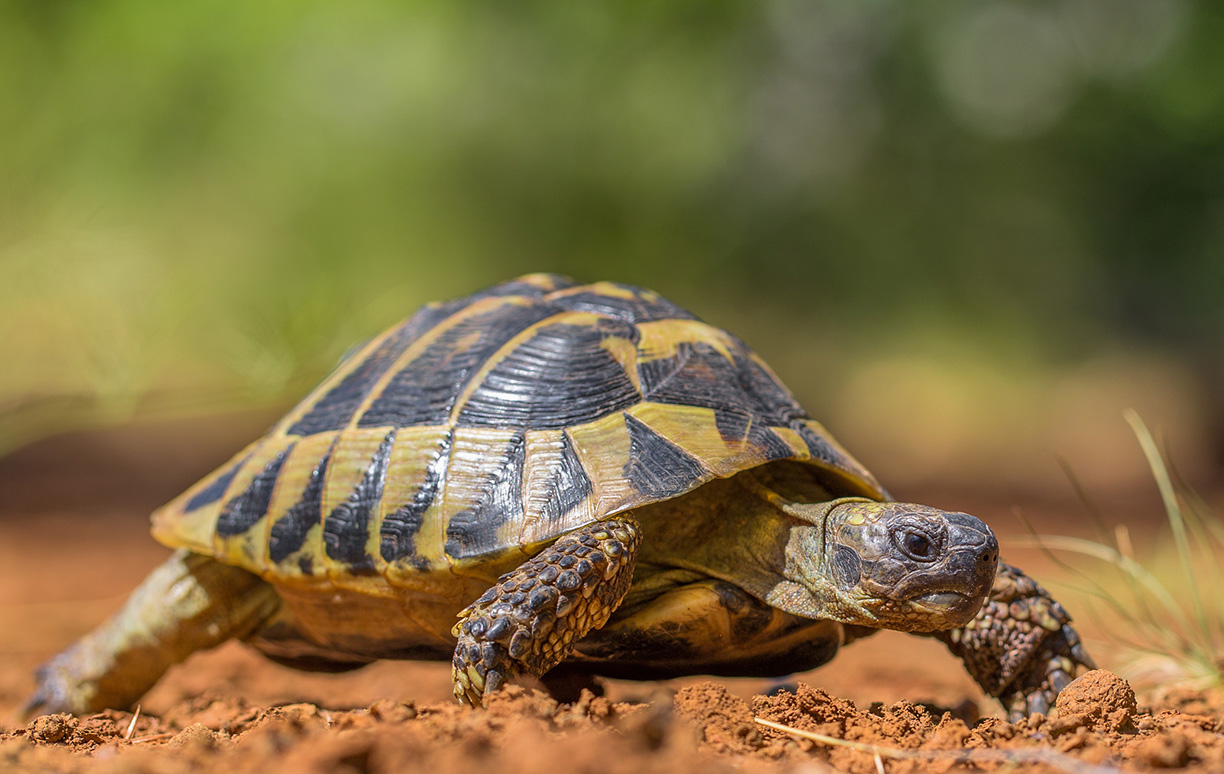 The Plain and surrounding forested mountains are the last remaining sanctuaries for Hermann's Tortoise on mainland France. It is one of three iconic reptiles in drastic decline that are protected here. Learn about these threatened reptiles by having a look at their facts sheets below.